Julie Halpern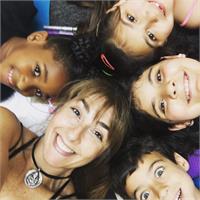 Julie Halpern, founder of YogaTwist, has been teaching yoga to children and families since 2007, with many trainings and certifications in that area, including, YogaKids Foundations, Radiant Child 1 & 2, Asana Alphabet and Yoga Gangsters (now CoCo). She has her 200-hour yoga teacher training certification from I Love Yoga and teaches gentle and beginner adult classes.
As a blessed mother of 2 amazing teenage daughters, her mission is to reach as many kids as possible with yoga to encourage authentic connection and compassion, to provide tools for coping with life's challenges at a young age to take through life and share for a positive future! Healing the world one breath at a time!
Julie Halpern instructs the following:
Drop the kids ages 4 and up for yoga, music, balancing breathing and much more! Take a class yourself too (we have a Hatha class in the other room at the same time).

Join Julie Halpern (YogaTwist) for movement, music, games, stories and more! Kids practice in a safe fun environment that fosters compassion and kindness as well as exercise and yoga breathing...give your children tools to take off the mat and into their daily lives.