Domenic Nappa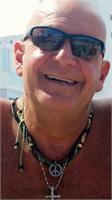 Domenic Nappa, co-founder of Ahh-mazing Yoga found peace and love within through yoga when he met his wife, Mary the other co-founder of Ahh-mazing Yoga Shala. His intention was to create a place of high energy where Mary could teach and where people would feel at home and at peace while practicing. His ahh-mazing construction skills allowed his dream to manifest into reality, he created such a beautiful space full of peace and love.
In addition to Domenic's construction skills, he runs the day to day business at Ahh-mazing Yoga Shala! People love seeing his smiling face as they check in for yoga and Domenic truly enjoys seeing their Yoga Glow as they leave to carry their peace out into the world! Domenic has faith that if you practice, all is coming as long as it is within God's will.

Domenic Nappa instructs the following:
This class begins with Hatha Yoga, the yoga of engagement which strengthens and balances the body, then gently transforms into Anuttara Raja, the yoga of disengagement which promotes flexibility of body and mind. Suitable for all levels. We practice in a gently heated room so please bring a large towel in addition to your mat.