Domenic Nappa III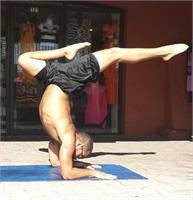 Domenic is originally from Rhode Island where he grew up playing football, lifting weights and working in construction, namely concrete work. After undergoing numerous upper body injuries, running became the exercise where he found peace of mind after running great distances. After moving to Florida for work and struggling for a while, through many perfectly aligned circumstances, he found yoga. He fell in love with the practice as it offered a peace of mind that he had only found on long distance runs. He enjoys the physical, upper body strengthening postures, and is well versed in inversions and arm balances. His classes, while being well rounded, will move you toward understanding the capabilities of your body as he believes there is no "can't" or "never" in yoga. Yoga saved Domenic's life and he feels it is his true calling to share his passion about the effects yoga can have on people's lives, both mentally and physically. He loves the prospect of being a student and teacher of yoga for the rest of his days.
Domenic Nappa III instructs the following:
Introduction to inversions workshop is the perfect way to approach some of the more advanced concepts in the practice; some may seem too difficult or out of reach but I'm here to tell you that with proper conceptualization, concentration, form and focus, you will be able to do anything you are willing to work towards. Whether balancing on your hands or your forearms, the practice is accessible to all.I will show you how. Join me!

The workshop will last approximately 90 minutes.
Please bring your mat, water and a notebook!

$20 per person
Please call to pre-register or book online
954-922-8817




In this very active form of Hatha Yoga, we flow through the asanas (postures) beginning by saluting the sun and placing the focus on special placement and alignment while linking movement with the breath. Though suitable for all levels, being familiar with Hatha Yoga is recommended. It is a vigorous class and we generate a good amount of heat within (tapas) so please bring a beach towel in addition to your mat or you can rent both here. ($2.00)

A vigorous form of Hatha Yoga that flows through the Sun Salutations. This dance-like practice is cardiovascular and graceful. We move the body into a Pose, Counterpose and Repose, representing the three qualities of Nature so as to safely access the body and all systems. We do a set of sequences and "Echo" (Visarga) in the subsequent sequence. All levels.

Familiarity with Hatha Yoga is strongly advised.




This class begins with Hatha Yoga, the yoga of engagement which strengthens and balances the body, then gently transforms into Anuttara Raja, the yoga of disengagement which promotes flexibility of body and mind. Suitable for all levels. We practice in a gently heated room so please bring a large towel in addition to your mat.




A style of yoga unique to Anuttara Raja Yoga certified teachers which encompasses a gravitational surrender in yoga poses that interpret the Yoga Sutras. We follow the prescriptions and dictates of our Guru Lineage of Self-Realization. Anuttara Raja Yoga hypothesizes that the plastic tissues, primarily fascia, are the vast extensions of mind through the neuro-myofascial sheaths that correspond to the meridians and the nadis (energetic channels). In Hatha Yoga we engage muscle in order to counteract gravity, whereas, in Raja Yoga we disengage muscle and surrender to gravity completely.
Suitable for all levels, heated.
We suggest that you refrain from eating a large meal at least two hours prior to class. Please bring a beach towel in addition to your mat or you can rent both here.




Non heated, all levels welcome. Begin your day strengthening and balancing the body and mind in this invigorating hour long sequence. Get ready to increase vitality and promote positive vibes for the rest of the day!