Edwin Prado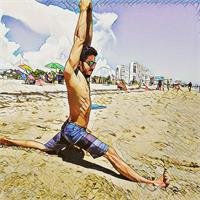 Edwin is a student of wisdom (jnana), life and the journey presented in every moment. His background is in engineering with an emphasis in sustainability for building systems. During college, he took a course in eastern religions for an easy grade and also to explore what other frames of perception exist. He practiced yoga on and off but never saw it as a lifestyle or a life long journey. It was eventually the unfolding of and discovery of one's actions and reactions (karma) that eventually lead him to really discover this practice. Edwin has completed Hatha, Anuttara Raja and Vinyasa teacher trainings at Anuttara Yoga Shala.
He feels it is an honor and a pleasure to help serve the community and give back what his teachers and journey have provided; to serve is the highest calling of any Being.
Edwin Prado is currently not instructing any classes.