Edwin Prado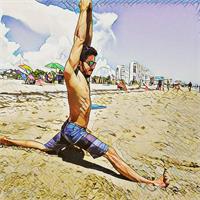 Edwin is a student of wisdom (jnana), life and the journey presented in every moment. His background is in engineering with an emphasis in sustainability for building systems. During college, he took a course in eastern religions for an easy grade and also to explore what other frames of perception exist. He practiced yoga on and off but never saw it as a lifestyle or a life long journey. It was eventually the unfolding of and discovery of one's actions and reactions (karma) that eventually lead him to really discover this practice. Edwin has completed Hatha, Anuttara Raja and Vinyasa teacher trainings at Anuttara Yoga Shala.
He feels it is an honor and a pleasure to help serve the community and give back what his teachers and journey have provided; to serve is the highest calling of any Being.
Edwin Prado instructs the following:
A style of yoga unique to Anuttara Raja Yoga certified teachers which encompasses a gravitational surrender in yoga poses that interpret the Yoga Sutras. We follow the prescriptions and dictates of our Guru Lineage of Self-Realization. Anuttara Raja Yoga hypothesizes that the plastic tissues, primarily fascia, are the vast extensions of mind through the neuro-myofascial sheaths that correspond to the meridians and the nadis (energetic channels). In Hatha Yoga we engage muscle in order to counteract gravity, whereas, in Raja Yoga we disengage muscle and surrender to gravity completely.
Suitable for all levels, heated.
We suggest that you refrain from eating a large meal at least two hours prior to class. Please bring a beach towel in addition to your mat or you can rent both here.