Kalyani (Marcella) Reyes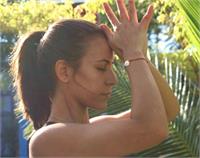 A passionate seeker, she has lived her life journey determined to go deeper in the reality that goes beyond the Human body limitation, while using her own life to experience the teachings. Along her path, she deepened her studies while living in the Amazon Rain Forest of Peru, spending time close to great teachers. Following her years in South America, she migrated east to spend 8 years journeying in India for long sojourns, studying Yoga and spirituality.
She completed 200 training hours in Kailash School in the Himalayas, India and 200 hours at Skanda Yoga in Miami, Florida.
In Yoga she has found the perfect complement and companion, "Offering a complete Yoga that incorporates a powerful and aligned asana practice with a strong spiritual foundation."
She uses Yoga as a tool to inspire others to live a life from the heart. Her own body and life is her main tool to teach and invite others to this journey of self discovery and transformation, as she inspires her students to detach from limiting beliefs, and jump into the vast ocean of infinite happiness.
Kalyani (Marcella) Reyes is currently not instructing any classes.