Lisa Poulsen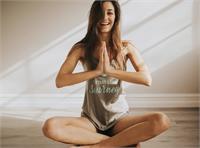 Lisa began practicing yoga because she had irritating back pain; having played sports while growing up while being much taller than most kids her age, she found herself with poor posture and in a lot of pain. When she got into college she took a yoga course and wasn't too crazy about it at first but she did notice how specific stretches really helped with the pain so she incorporated them into her work outs. She started exploring different classes to find other stretches to help and found an instructor she fell in love with. She went to her class religiously and started also understanding the mental side of yoga. She then began her own practice and explored different styles, studios, variations. She became addicted to the idea of learning more so she signed up for a teacher training...in Costa Rica! Because who wouldn't want to be fully submerged in a 200 hour program, smack dab in the middle of the rain forest?! She emerged a full-fledged yogi! Now she lives a yogic lifestyle and shares her experience through her classes which can be challenging yet always satisfying. Lisa loves to focus on the anatomy of the body and tendencies of the mind, which always makes for an interesting practice. Please join Lisa for one of her Ahh-mazing classes to find out more of what she's about!
Lisa Poulsen instructs the following:
In this very active form of Hatha Yoga, we flow through the asanas (postures) beginning by saluting the sun and placing the focus on special placement and alignment while linking movement with the breath. Though suitable for all levels, being familiar with Hatha Yoga is recommended. It is a vigorous class and we generate a good amount of heat within (tapas) so please bring a beach towel in addition to your mat or you can rent both here. ($2.00)

A vigorous form of Hatha Yoga that flows through the Sun Salutations. This dance-like practice is cardiovascular and graceful. We move the body into a Pose, Counterpose and Repose, representing the three qualities of Nature so as to safely access the body and all systems. We do a set of sequences and "Echo" (Visarga) in the subsequent sequence. All levels.

Familiarity with Hatha Yoga is strongly advised.