Tiffany Frederick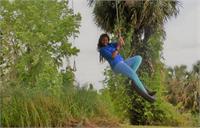 Tiffany is originally from Pembroke Pines; she currently lives in Delray Beach. Affectionately called, The Island Girl, she is a mom, wife, animal lover, and yogi. After practicing heated yoga for over a decade, Tiffany decided to exit the rat race and join the business of healing. Yoga has inspired so much love and strength in her life, and she wishes to share it with others. Tiffany trained at Anuttara Yoga Shala, in Delray Beach and is 200 RTY certified. The Island Girl continues to learn, and will forever be a yoga student. Tiffany truly enjoys what she does and feels amazing everyday.
Tiffany Frederick instructs the following:
A style of yoga unique to Anuttara Raja Yoga certified teachers which encompasses a gravitational surrender in yoga poses that interpret the Yoga Sutras. We follow the prescriptions and dictates of our Guru Lineage of Self-Realization. Anuttara Raja Yoga hypothesizes that the plastic tissues, primarily fascia, are the vast extensions of mind through the neuro-myofascial sheaths that correspond to the meridians and the nadis (energetic channels). In Hatha Yoga we engage muscle in order to counteract gravity, whereas, in Raja Yoga we disengage muscle and surrender to gravity completely.
Suitable for all levels, heated.
We suggest that you refrain from eating a large meal at least two hours prior to class. Please bring a beach towel in addition to your mat or you can rent both here.