Mary Nappa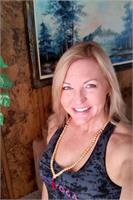 Mary's yoga journey began many years ago in Arizona but she really fell in love with it when she began practicing on the beach with Tonee Detweiler in 2010. Shortly afterward, she met her Teacher of Truth, Philip Christodoulou at Anuttara Yoga Shala; she attended his 200 hour Anuttara Raja Yoga teacher training solely to deepen her own practice. By graduation day she was overtaken by the passion to share yoga with others so she immediately signed up for the 200 hour Hatha Yoga teacher training. Mary has been sharing yoga with others ever since! Her passion to share yoga with others eventually led her and her husband Domenic to create Ahh-mazing Yoga Shala!

Mary considers herself to be a Bhakti Yogi (a yogi of devotion); she prays to be a clear channel for God to use in sharing the peace of yoga with others. Her passion is for all beings to find the peace of Divine Love within.
"Yoga continually deepens my relationship with the Holy Spirit. Through this relationship, I have found "the peace that surpasses all understanding..the Kingdom of Heaven within.".
♥ Mary Nappa

Mary Nappa instructs the following:
Suitable for all levels, especially beginners, non-heated. The first half of the class moves gently through hatha postures (asanas) with specific instruction as we focus on pranayama (breath control). Then we continue with Yoga Nidra, where we melt into bliss....ahh! Yoga Nidra is a guided relaxation technique where you are made,as,comfortable as possible...you may even fall asleep!

Yoga Nidra is a state of consciousness that allows you to access your own healing abilities. During this practice you will be guided into a relaxed state, where you can disengage from all thoughts, worry, and tension to find peace and stillness within. It is an effortless practice suitable for anyone who wishes to experience deep rest and relaxation, and awaken to the infinite potential that lies within.




Awaken the body, connect with the breath and feed the soul as we practice slow, mindful Hatha postures in this flow. As motion is linked with breath it becomes a meditation in motion where we become fully present to the moment, allowing us to connect deeply to the peace within. Class ends with restoration and relaxation.





"The main objective of Hatha yoga is to create an absolute balance of the interacting activities and processes of the physical body, mind and energy. When this balance is created, the impulses generated give a call of awakening to the central force, which is responsible for the evolution of human consciousness. If yoga is not used for this purpose, its true objective is lost."

~Swami Muktibodhananda Saraswati, Commentary, 1985 translation, Hatha yoga Pradipika